Interested in knowing some of the behind the scenes stuff for Kitchen Sanctuary? Here's the latest in my blog income and traffic report February 2017. Check out my previous reports and more info on how to make money from your blog here.
Oh my gosh, it's April already and I didn't get a chance to post my Feb income report!
So I'm going to make this one super quick today – mostly sticking to just the numbers, and I'll also post my March report today too.
In short, February was a little quieter than January. I'm hoping it's just the time of year, although I have heard whisperings of Google and Pinterest updates which are having an impact on traffic.
So let's get down to the numbers for February. I really hope the info in this post gives you some insight and ideas if you're new to blogging and monetization. Also check out my How to Start a Food Blog post if you are thinking about giving this blogging thing a go too!
Income Breakdown
Note – there are some links in this post that are affiliate links – which means that if you click on them and then sign up to the service/product I'll get a small commission (at no extra cost to you of course). If you do click through then thanks!
Income (fyi – this info is based on earning reports and invoices for work done in the month of February, it's not based on money that has actually come in yet, so there may be some variations based on things like paypal fees or exchange rate fluctuations):
Freelance writing: £1851.88 ($2317.81)
MediaVine: £1677.64 ($2089.74)
Sponsored Work £0 ($0)
Amazon Affiliate sales £36.23 ($45.12)
FoodBloggerPro affiliate sales £4.66 ($5.80)
Tailwind Affiliate £0 ($0)
StudioPress Genesis Theme affiliate sales £0 ($0)
How I earned $40k in my first year of blogging affiliate sales £0 ($0)
Tasty Food Photography £0 ($0)
The Food Photography book affiliate sales £0 ($0)
You Tube Ads (just started my You Tube channel – check it out here) £0.21 ($0.26)

Total = £3570.62 ($4458.73)

Expenses (currently this includes regular payments for tools, membership fees and advertising but not inconsistent things like courses, trips and props):
FoodBloggerPro: £16.37 ($20.83)
Hosting and backups: £64.08 ($81.50)
Tailwind: £8.02 ($9.99)
MailChimp £52.18 ($65)
Adobe creative cloud £47.76 ($60.79)
Facebook Ads £28 ($34.87)
OptinMonster£12.00 ($15.27)
Total = £228.41 ($288.25)
Net Profit = £3342.21 ($4174.46)
Traffic
I expected a drop in numbers during January, but they stayed fairly consistent with December – which was a nice surprise. I was hoping that might carry on through February, but it wasn't to be.
I've noticed in the past that when I get a jump in page views, often my page views continue to build from there.
A bit of a pattern like this –
Plateau –> jump –> small drop (but still above the plateau number before the jump) –> slow build –> plateau
Then the cycle begins again.
This time, it seems to have been
Plateau –> jump –> small drop (but still above the plateau number before the jump) –> small further drop
Hopefully things will start improving as we get closer to Summer
Here's a screenshot from Google Analytics for February:
Here's a breakdown of my traffic sources based on the number of sessions (not pageviews).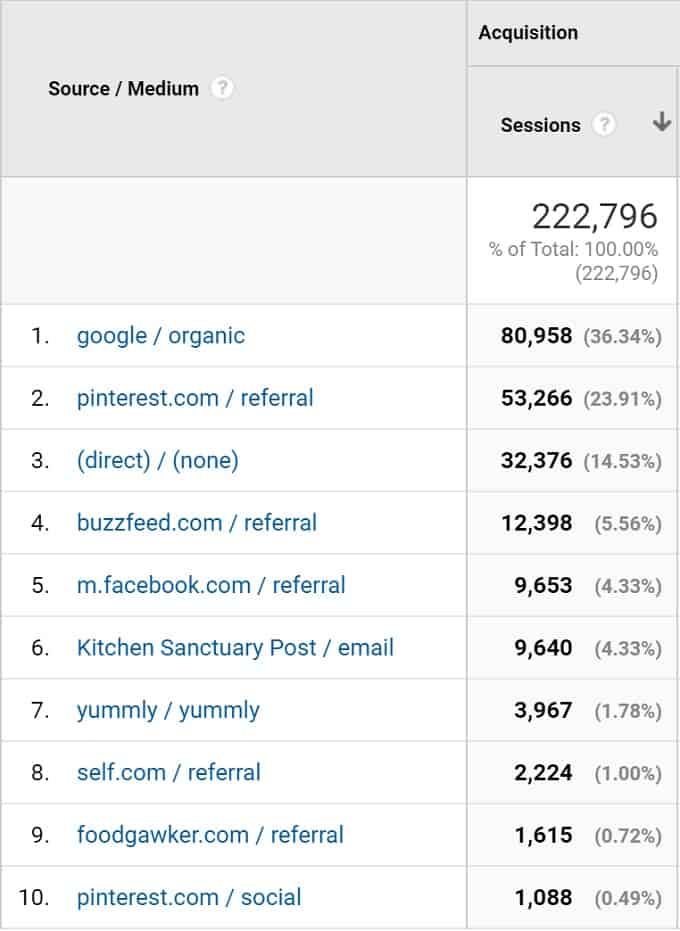 Here's the info on the location of my readers. As with last month, I noticed a little drop in the percentage of US readers, and a little increase in the percentage of UK readers.
That's all for the blog income and traffic report February 2017 . Please drop me a note in the comments if you have any questions.