Interested in knowing some of the behind the scenes stuff for Kitchen Sanctuary? Here's the latest in my blog income and traffic report January 2017. Check out my previous reports and more info on how to make money from your blog here.
Happy March everyone!
Spring is close! I've spotted a few daffodils and bluebells popping up – but we also had lots of snow on Tuesday (which resulted in Lewis peppering me in snowballs at every opportunity between home and school). Hopefully the weather will continue to get warm from here on out, so we can get back to barbecues and ice cream (is March too early to start?).
January was a bit of a poor month, as predicted. After the highs of November and December, it's a bit disheartening to watch the earnings go down at the beginning of a new year. I was prepared for it though, and compared to the previous January, I can't complain one bit.
Ad revenue tends to go down by quite a lot in Jan (for me it was £2.6k in December 2016, compared to £1.6k in January 2017 – despite pageviews not being particularly lower in January).
Ebook affiliate sales were non-existent – I guess people are spent out by January!!
Less sponsored work – as brands are often starting to think about plans for the year, but haven't got leftover budget they need to use up.
On the plus side, Amazon affiliate sales weren't too bad at £46. I normally only earn around £5-£10, as I don't do a whole lot with Amazon affiliate links at the moment. It jumped up to £74 in December – with a bit of help from the Christmas gift guide I wrote, and I expected to go right back down to normal in January, so that was a nice surprise.
So what am I going to talk about in this report?
Income and outgoings for January 2017
Traffic sources and audience location
What's been happening in January
Plans for the next couple of months
Ok, let's get down to the numbers for January. I really hope the info in this post gives you some insight and ideas if you're new to blogging and monetization. Also check out my How to Start a Food Blog post if you are thinking about giving this blogging thing a go too!
Income Breakdown
Note – there are some links in this post that are affiliate links – which means that if you click on them and then sign up to the service/product I'll get a small commission (at no extra cost to you of course). If you do click through then thanks!
Income (fyi – this info is based on earning reports and invoices for work done in the month of January, it's not based on money that has actually come in yet, so there may be some variations based on things like paypal fees or exchange rate fluctuations):
Freelance writing: £1236.61 ($1592.73)
MediaVine: £1594.65 ($2064.57)
Sponsored Work £331 ($428.54)
Amazon Affiliate sales £46.66 ($60.41)
FoodBloggerPro affiliate sales £0 ($0)
Tailwind Affiliate £0 ($0)
StudioPress Genesis Theme affiliate sales £0 ($0)
How I earned $40k in my first year of blogging affiliate sales £0 ($0)
Tasty Food Photography £0 ($0)
The Food Photography book affiliate sales £0 ($0)
You Tube Ads (just started my You Tube channel – check it out here) £0.10 ($0.13)
Total = £3209.02 ($4146.38)
Expenses (currently this includes regular payments for tools, membership fees and advertising but not inconsistent things like courses, trips and props):
FoodBloggerPro: £16.37 ($20.83)
Hosting and backups: £64.08 ($81.50)
Tailwind: £6.29 ($8.00)
MailChimp £39.29 ($50)
Adobe creative cloud £47.76 ($60.79)
Facebook Ads £0 ($0)
OptinMonster£12.00 ($15.27)
Total = £185.79 ($236.39)
Net Profit = £3023.24 ($3909.29)
Traffic
So close to the 300k page views I reached for December! I really thought January would be back down to around 250k views – especially given that my cranberry and brie bites – which got 60k views in December, plummeted down to 5k views for January. I think the combination of a few things helped to keep the pageviews around the same level:
A couple of larger websites including one of my posts in recipe roundups
A rise in views coming from search engines (up 17k compared to December)
A big increase in views from Facebook – I think a popular page linked to one of my posts, but I've not been able to find it so far!
I also got some extra views on my Beef Massaman Curry – which, although it is an older post, I re-photographed in January, and Foodgawker picked it up on their Instagram page, then Buzzfeed picked it up too.
Here's a screenshot from Google Analytics for January:
Here's a breakdown of my traffic sources based on the number of sessions (not pageviews). Pinterest traffic dropped by about 21k compared to December – meaning it went down to my second highest referrer – after being at the top for a couple of months.
Google search traffic is up by about 17k though. Possibly due to a few bigger sites linking to me, which can help to improve SEO (Search engine optimisation).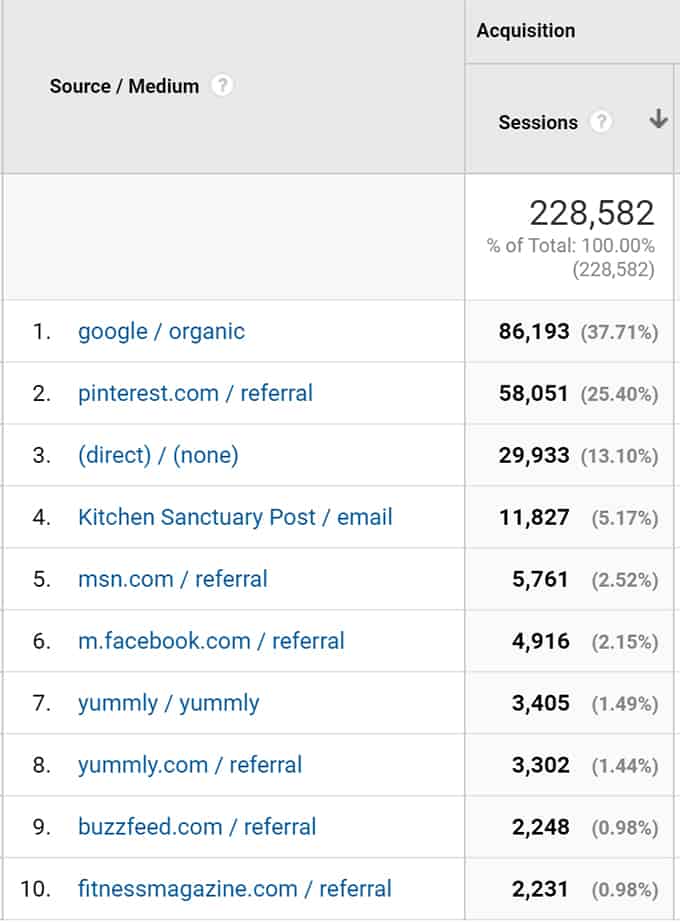 Here's the info on the location of my readers. I noticed a bit of a drop in US viewers – I think this may be related to the drop in views from my Cranberry and Brie bites post that were popular for Thanksgiving and Christmas, but not so much in Jan.
The number of UK viewers however, jumped right up by 21k! Meaning the UK made up 25% of my audience. Usually it's closer to 15% so I'm really pleased. A lot of my fellow UK blogger friends have a predominantly UK-based audience, yet my UK audience numbers, although always second in the list, have always been way below my US numbers. Woo hoo! Thanks so much for reading my blog!!
January Happenings:
I attended the Pinterest UK food awards (actually on the 2nd of Feb, but close enough) – as four of my recipe pins were shortlisted! I didn't win anything, but it was great to catch up with some blogging buddies and meet some new ones. A few of us went out for a meal afterwards, where we stuffed ourselves, had a cheeky cocktail and compared notes on blog stuff. Well done to Lucy from Super Golden Bakes for winning best drink recipe, and Ciara from My Fussy Eater for winning best kid's recipe AND regional winner (People's choice) for Glasgow for her Cheesy Puff Pastry Stars!
I went along to Neff HQ to talk about the Cookaholics campaign. Lot's of fun stuff planned for the year, can't wait to share it all with you guys!
Our kitchen is getting ever closer to being finished! We finally got the chance to sit down at our new dining table when it arrived in Jan. The kids weren't happy that they were no longer allowed to eat in front of the TV (no kitchen or table for several months!), but I'm overjoyed! More to come on this in March.
I've completed or at least started a few of the 2017 targets I set in my December income report:

Updated my social media images on Twitter and Facebook
Did my first Instagram live – giving a sneak peak into my nearly-completed kitchen.
Started a Tailwind for Instagram trial – which I think, along with a couple of regrams on popular pages has helped to increase my Instagram engagement and followers. I normally get around 100 new followers a month on Instagram, but I got around 400 new followers in Jan!
Working out – I started with my personal trainer again. It's hard, but it's starting to pay off. I will get rid of my muffin top by Easter!!
Upcoming Plans:
Kitchen reveal video – hopefully taking place in March!
Now that the kitchen is almost done, I'll be starting to create some more video content again (Yay!!).
Starting work on the garden and living room. My kitchen looks gorgeous, but the rest of the house looks terrible in comparison now! We'll be digging up and re-turfing the garden, then getting some raised beds in there (I'm hoping to start growing some veg again this year!). The living room needs a new floor, shelves, lights and a coat of paint. All in all, not too much work in comparison to the extension & kitchen.
My birthday!! – In March. Don't ask how old please. I'm planning on taking the day off. I say that every year, then work all day. Determined to stick to it this year!!
Lot's more freelance work on the cards – things are starting to pick up for the year now, and I'm excited to get stuck in – creating lots of lovely recipes!
Phew, I think that's all from me. I hope you found all of the info helpful. Please let me know if there's anything you want me to talk about in a future report. Just drop me a note in the comments.