This is the blog income and traffic report May 2016! If you are interested and want to see all our other income reports click here!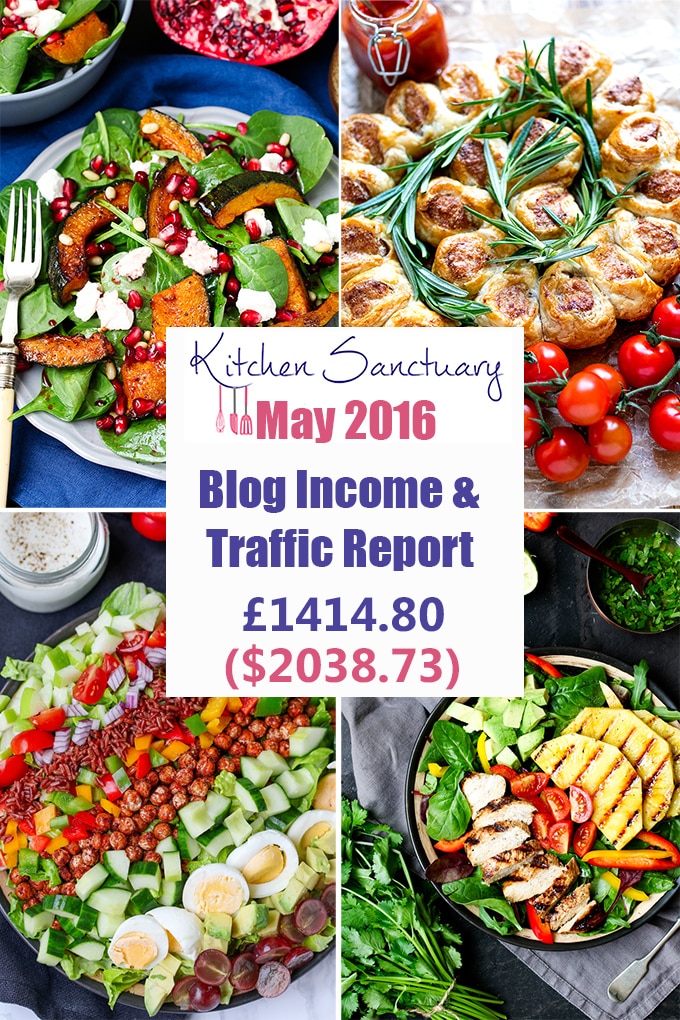 It's that time again!
My eighth income and traffic report (check out the rest here).
How the heck did June come around so quickly?
It's been glorious in the UK for the past couple of weeks. Lots of BBQ food and probably too many ice creams for me to maintain my weight loss.
Should I show you those before and after pictures now I've reached my target??
Eek can't believe I'm going to do this, but hopefully it'll motivate me not to go back to my old habits if I share this with you guys.
Ok, here goes – before and after 14lbs weight loss: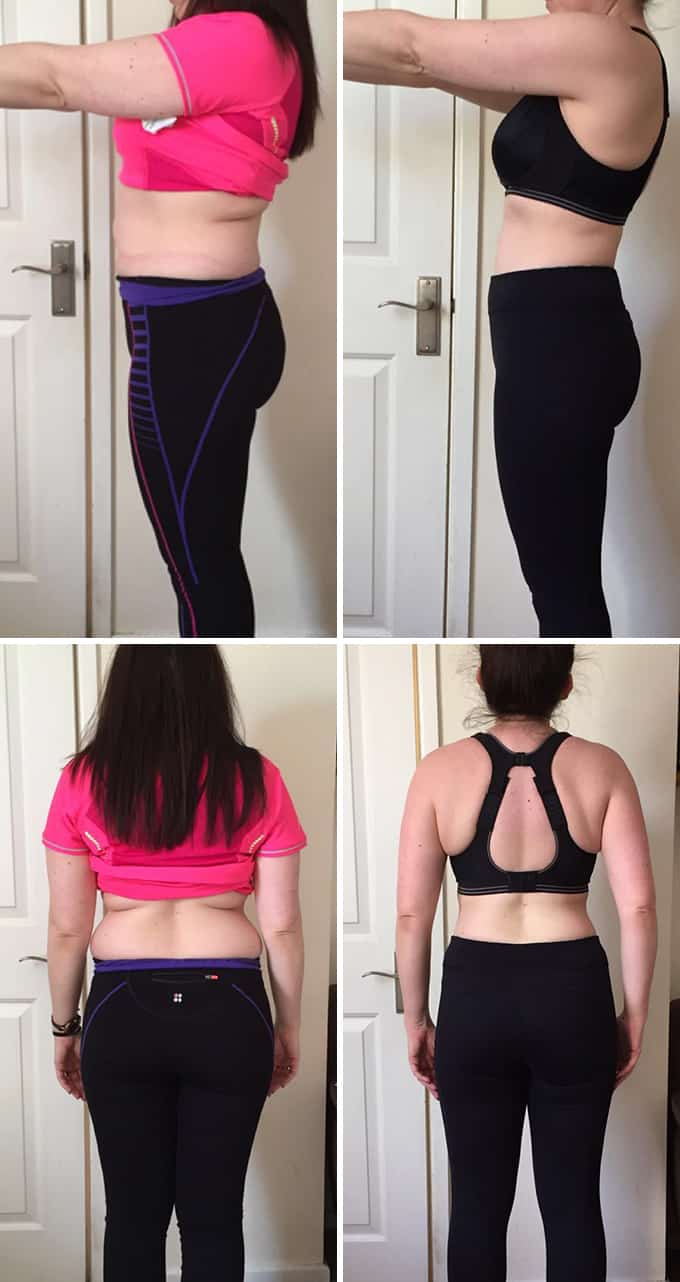 It was the heaviest I've been in quite a while, but now I'm actually the lightest I've been in over a decade!
So how do I keep it off? Any tips?
My plan at the moment is to stick to smaller portions, no evening snacking and at least 4 or 5 exercise sessions a week – but then have a few treats at the weekend. Fingers crossed that works because if I'm back to my old weight by next month's income report, I'll be living off lettuce until my holiday – which probably won't make for very interesting blog posts!
Ok, let's get down to the numbers and then I'll talk a little about my thoughts on Mediavine and OptinMonster now I've been using them for over a month. I really hope the info in this post gives you some insight and ideas if you're new to blogging and monetization. Also check out my How to Start a Food Blog post if you are thinking about giving this blogging thing a go too!
Income Breakdown
Note – there are some links in this post that are affiliate links – which means that if you click on them and then sign up to the service/product I'll get a small commission (at no extra cost to you of course). If you do click through then thanks!
Income:
Freelance writing: £946.55 ($1363.95)
MediaVine: £503.60 ($725.67)
Amazon Affiliate sales £17.09 ($24.62)
FoodBloggerPro affiliate sales £4.03 ($5.80)
How I earned $40k in my first year of blogging affiliate sales £0 ($0)
Tasty Food Photography £10.06 ($14.50)
The Food Photography book affiliate sales £0 ($0)
Total = £1481.32 ($2134.54)
Expenses:
FoodBloggerPro: £14.49 ($20.83)
Hosting and backups: £11.70 ($16.82)
Tailwind: £6.02 ($8.66)
MailChimp £17.82 ($25.72)
Facebook Ads £5.00 ($7.20)
OptinMonster£11.49 ($16.58)
Total = £66.52 ($95.81)
Net Profit = £1414.80 ($2038.73)
Traffic
A bit of an increase since last month (approx 9k more views), so I'm happy that it's starting to go up again after a few shaky months.
Here's a screenshot from Google Analytics for May:

Here's a breakdown of the traffic sources based on the number of sessions: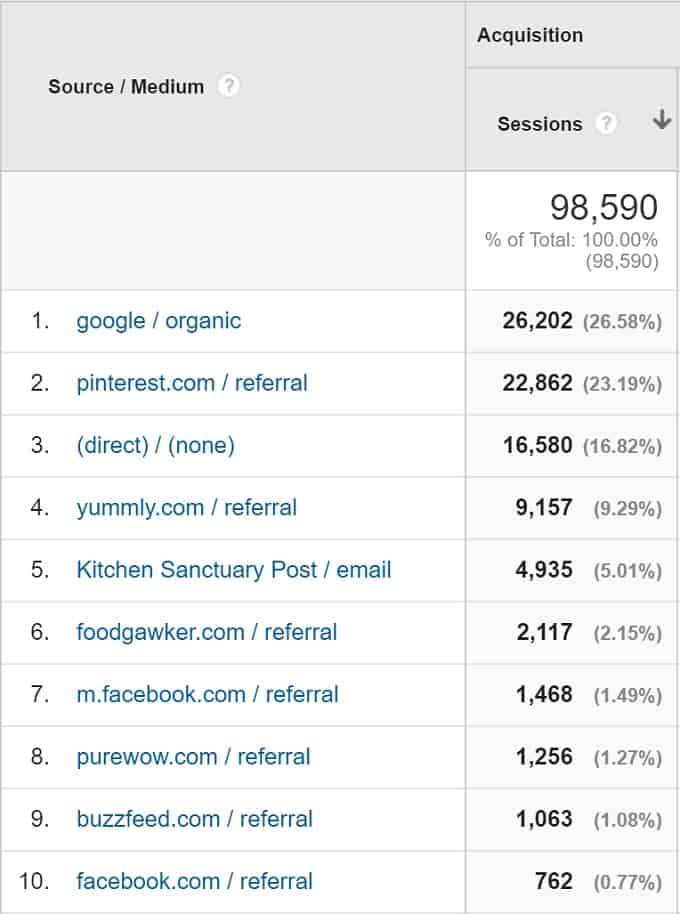 Here's the info on the location of my readers: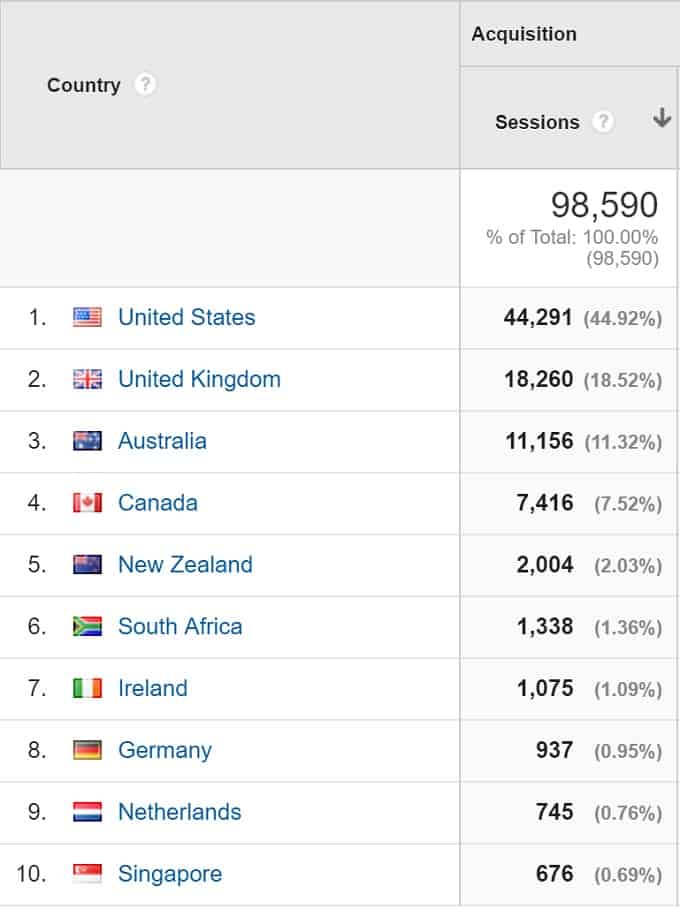 Takeaways
I've been with Mediavine since the middle of April now, and I can honestly say I'm really pleased with the results.
I hit £500 ($725) via the Mediavine ads on Kitchen Sanctuary in May. That's the highest ad revenue I've ever had – the previous record being £325 in December. December is usually a good month for ad revenue, so I'm chuffed that I've managed to get more than that during one of the quieter months.
The customer service is also brilliant – everyone is so friendly and helpful, and they're willing to go the extra mile to help their bloggers out. I had a request regarding a small code change requirement for my mobile site, and they sorted it within a few hours.
Hitting £500 last month meant that despite the fact I didn't do any sponsored posts in May, my overall income didn't go down by more than a few pounds.
I started using OptinMonster at the end of April as a way to increase my mailing list.
Getting traffic from Google, Pinterest, Facebook etc is great, but it means I'm always relying on that third party not to make a change that will cause an unexpected (permanent or temporary) drop in traffic. I've seen this happen to other bloggers, as well as myself on occasion.
Building up a good mailing list is a big priority for me, as those people on my mailing list have physically taken an action to follow what I do, and will (hopefully) continue to come back again and again as new recipes drop into their mailbox. They're my returning audience and the people I hope I'm building a connection with and they're extremely important as my long-term customers.
If you're one of my subscribers then I just want to say THANK YOU SO MUCH for following me xx
So how does OptinMonster help to build my mailing list? Well actually it's by being a little bit annoying and in your face.
You can set OptionMonster to have a huge takeover screen pop up whenever someone comes to the site. You can also have smaller, less annoying options. I was reluctant to use even the less annoying options, because, well, it's still annoying to some readers. It does seem to be working though.
Currently I've got:
A 'mailing list request' pop up just at the point people are leaving the site – this is called an 'exit intent' pop up (OptinMonster has figured out how to spot when someone is about to leave your site). Currently it's set only to pop up for people who haven't signed up to my mailing list, and then only to pop up once a month for any of those readers. You can alter these settings as you see fit.
A permanent 'mailing list request' bar at the top of my site (although the reader can press the cross to get rid of it if they want to).
Specifically for my mobile site, I've got a 'mailing list request' pop up that appears only after the user has scrolled down at least 50% of one of my pages. This is the only mailing list request setup option I have set up (the exit-intent and permanent 'mailing list request' options listed above are only used for readers who are on non-mobile devices).
My previous setup was just the second option on this list. So let's compare the results for May (with OptinMonster) to the previous 6 months (without OptinMonster):
Not too bad. I was hoping to see a bigger jump from April to May – after reading a few success stories of other people who'd drastically improved their sign up rate.
My sign up rate more than doubled in May (I normally get around 100 sign ups a month, but May saw 254 sign ups), so I really can't complain.
I'll keep an eye on this one, and report back again in a few months.
That's all for the May report. I hope you've found this info helpful. Please let me know if there's anything you want me to talk about in a future report. Just drop me a note in the comments 🙂