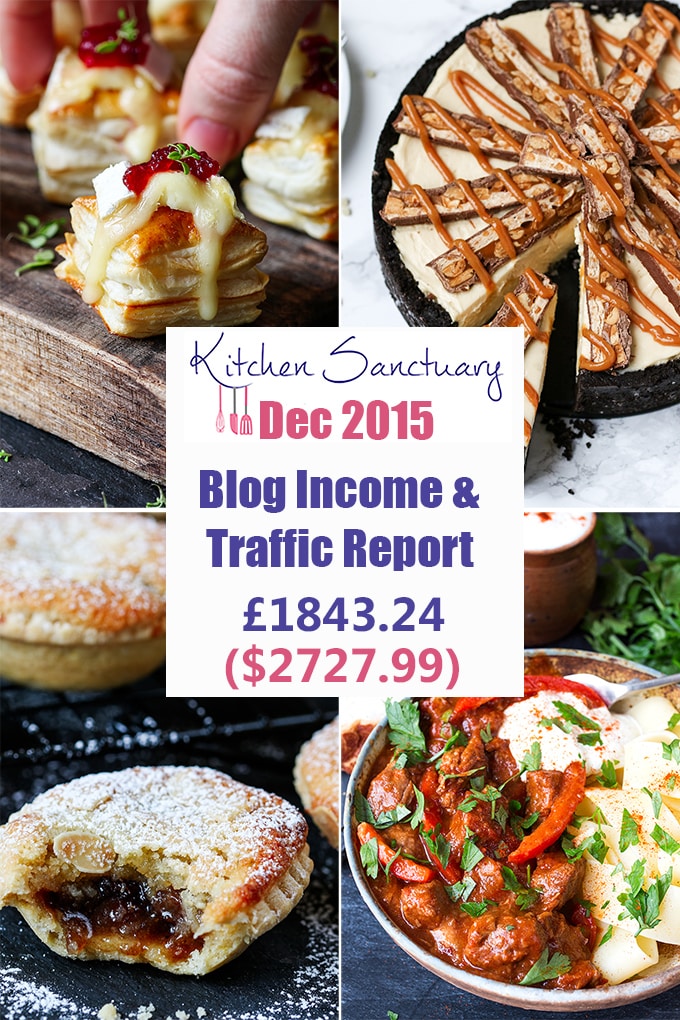 Phew, Christmas is over, the kids have managed to make their way through their own weight in sweets, chocolate and cake, and yet i'm the one who seems to have gained at least 5lbs. So unfair.
I hope all of you had a fabulous festive season, and if you're anything like me, you're already looking at holiday brochures and thinking about January fitness plans (whilst finishing off that tube of smarties).
Today I'm talking blog income and traffic. Really sorry if you're here for a recipe! – I'll be back with some recipes in a couple of days I promise x
December was a really busy month for me, and I found it so difficult to start feeling Christmassy!
My plan was to work like crazy until the 18th of December, and then take a step back and stick to no more than an hour of work a day over Xmas.
Of course it didn't really work out like that, and I found I was still working pretty hard up until about the 22nd of December. By that time I was ready to flake out, so I took a full week off and chilled out with my family (and possibly with some wine and ferrero rochers too….).
I've still got another day to go until the kids are back at school but I'm slowly getting back into the swing of things, and I thought now would be great time to take a look at my monthly income report! It's my third one so far – check out one and two here.
I started Kitchen Sanctuary almost two years ago whilst I was still working full-time in the IT world.  My husband Chris also works in IT, and we were starting to find it difficult to juggle work and family life. The kids were at breakfast club and after-school clubs, I was finding it difficult to get us all around the table at the same time for dinner (which is something I feel very strongly about), and come the weekends, we just wanted to sit on the sofa and not move!
When the chance for voluntary redundancy came up at work, I saw it as an opportunity to make some changes. So I put my name forward, and left the company 6 months later.
Of course before I even left, I knew that I'd still need to be earning money, but I'd also need something flexible to work around the children. I'd been toying with the idea of food blogging – as I've always loved cooking and baking – so I started Kitchen Sanctuary. Initially it was a bit of fun, but with the hope in the back of my mind that eventually I'd be able to turn my passion into my job.
16 months ago I started testing the water by including a little bit of advertising on the site (I made £25.14 that month!) and since then I've just tried to build Kitchen Sanctuary and also a freelance career (using Kitchen Sanctuary as a kind of CV) in recipe writing and photography.
Fast forward to today, and I'm actually starting to believe that this food thing might work!!
I really hope this post gives you some insight and ideas if you're new to blogging and monetization.  Also check out my How to Start a Food Blog post if you are thinking about giving this blogging thing a go too!
Income Breakdown
December has been my busiest month ever but I'm really happy that the work I've put in is reflected in my overall income for the month. I'm expecting a drop in income for January – as some of the freelance work I've been doing has reduced now Christmas is over, but hopefully that will free up some time to concentrate on a few Kitchen Sanctuary improvements and also some training.
Note – there are some links in this post that are affiliate links – which means that if you click on them and then sign up to the service/product I'll get a small commission (at no extra cost to you of course). If you do click through then thanks!
Income:
Freelance writing: £1448.44 ($2143.69)
Gourmet Ads: £119.54 ($176.92)
Blogher: £107.04 ($158.42)
Sponsored Brand work £100 ($148)
Google Adsense: £99.77 ($147.66)
Affiliate product sales £9.54 ($14.12)
How I earned $40k in my first year of blogging affiliate sales £6.70 ($9.91)
Total = £1891.03 ($2798.72)
Expenses:
FoodBloggerPro: £13.65 ($20.20)
Hosting and backups: £11.70 ($17.32)
Tailwind: £6.02 ($8.90)
Facebook Ads £2.91 ($4.31)
MailChimp £13.51 ($20)
Total = £47.79 ($70.73)
Net Profit = £1843.24 ($2727.99)
Traffic
I managed to get over the 100k mark again yay! It looks like my google search traffic has increased by quite a significant 5% from the previous month.
I changed hosting providers in November – moving to SiteGround. Since then my page load speed has vastly improved. I believe google takes site speed into account in search rankings, so I'm wondering whether the move to SiteGround has helped me to get more traffic overall.
Here's a screenshot from Google Analytics for December:
And here's a breakdown of the traffic sources based on the number of sessions:
Here's the info on the location of my readers:
Take Aways
Hosting
I'm loving SiteGround since I moved to them as hosting providers in November. Before I moved, I was having a few issues with my site crashing, and also taking ages to load. Since then I haven't had any downtime (touch wood), and my site is so much faster. As I mentioned above, I think this improvement in site speed might also have helped my google search rankings, as my search traffic increased by 5% in December.
Pinterest
I managed to be a little more consistent with Pinterest pinning over the course of December. I ended up with nearly 4,000 more views from Pinterest in December compared to November (plus almost 200 new Pinterest followers). I guess part of this will be due to everyone looking for Christmas recipes, but I think better use of the scheduling tool I use (Tailwind) also helped.
Thinking about posts long term
I've started to notice that a fair amount my older content is continuing to bring in some good traffic. I've got over 280 posts on Kitchen Sanctuary now, and I'm finding that with the help of some re-pinning of this older content, plus a bit of sharing in a couple of Facebook groups I'm part of, the older content is really doing well. In fact looking at my top 10 performing pages for the month, only one of them was actually posted during December. So, it's worth keeping in mind that if a post doesn't do great in the first week or two after posting and you think it's a really good post, then be sure to keep promoting it!
My Chewy Amaretti cookies for example got 1522 views in the first month they were up – yet 10 months later they got 12,365 views in a month.
| | | |
| --- | --- | --- |
| Post | Views | Month Published |
| | 13501 | June 15 |
| | 12365 | February 15 |
| | 7735 | May 15 |
| | 6263 | March 15 |
| | 5129 | December 14 |
| | 3972 | December 15 |
| | 3906 | October 14 |
| | 2568 | June 15 |
| Homepage | 2476 | |
| | 1619 | June 15 |
That's all for this month folks. Let me know via email or in the comments if there's anything in particular you'd like me to go over next month.