Interested in knowing some of the behind the scenes stuff for Kitchen Sanctuary? Here's the latest in my blog income and traffic report November 2016. Check out my previous reports here.
Christmas is just around the corner and Kitchen Sanctuary is only a couple of weeks away from it's third birthday!!
Three years since I started the blog and a little over a year since I properly started monetizing through ads and freelance work.
When I first left my job in IT, back in July 2014, I hoped and prayed that I could make the blog work. The idea of working for myself in an area that I love, whilst being flexible for the kids, seemed almost to much to ask for.
I earned my first income from the blog a couple of months later in September 2014, where I made a whopping £25.14.
November 2015 was: £1295.64
November 2016 was: £4895.05
What the heck!!
Honestly, I've no idea how that's happened. I have to pinch myself most days.
In fairness this month has been particularly good due to:
Thanksgiving and Christmas traffic bringing in more ad revenue
A little more freelance income than usual
More sponsored brand work than usual
I'm expecting December to be a lot lower, and then January to be lower still, but I'm not complaining – blogging income will always come in peaks and troughs.
Ok, let's get down to the numbers for November. I really hope the info in this post gives you some insight and ideas if you're new to blogging and monetization. Also check out my How to Start a Food Blog post if you are thinking about giving this blogging thing a go too!
Income Breakdown
Note – there are some links in this post that are affiliate links – which means that if you click on them and then sign up to the service/product I'll get a small commission (at no extra cost to you of course). If you do click through then thanks!
Income (fyi – this info is based on earning reports and invoices for work done in the month of November, it's not based on money that has actually come in yet, so there may be some variations based on things like paypal fees or exchange rate fluctuations):
Freelance writing: £1894.02 ($2405.12)
MediaVine: £2153.52 ($2717.72)
Sponsored Work £1000 ($1265.82)
Amazon Affiliate sales £21.85 ($27.66)
FoodBloggerPro affiliate sales £4.59 ($5.80)
Tailwind Affiliate £0 ($0)
StudioPress Genesis Theme affiliate sales £0 ($0)
How I earned $40k in my first year of blogging affiliate sales £0 ($0)
Tasty Food Photography £0 ($0)
The Food Photography book affiliate sales £11.49 ($14.50)
You Tube Ads (just started my You Tube channel – check it out here) £0.37 ($0.47)
Total = £5085.84 ($6437.09)
Expenses (currently this includes regular payments for tools, membership fees and advertising but not inconsistent things like courses, trips and props):
FoodBloggerPro: £16.37 ($20.83)
Hosting and backups: £64.08 ($81.56)
Tailwind: £6.29 ($8.00)
MailChimp £39.29 ($50)
Adobe creative cloud £47.76 ($60.79)
Facebook Ads £5 ($6.30)
OptinMonster£12.00 ($15.27)
Total = £190.79 ($241.75)
Net Profit = £4895.05 ($6195.34)
Traffic
Woo hoo traffic was up to 276k (I can officially say quarter-of-a-million when showing off to Chris – that literally had me doing a happy dance). Here's a screenshot from Google Analytics for November:
Here's a breakdown of my traffic sources based on the number of sessions. Pinterest is continuing to be my higher referrer (and has been now for the last three months).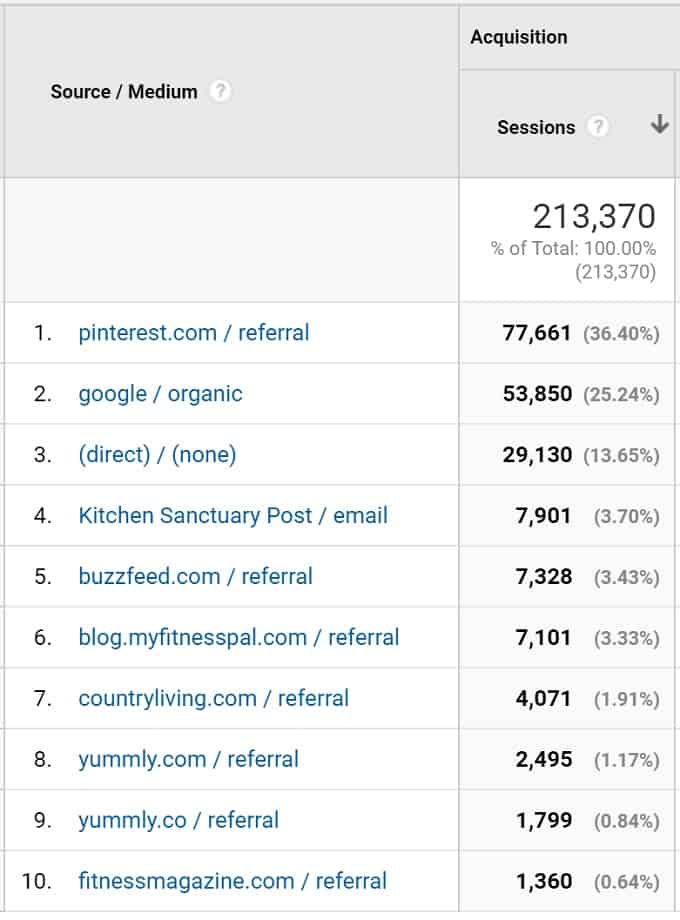 Here's the info on the location of my readers. A bit of a increase in the percentage of readers from the USA – A lot of this traffic was down to US readers clicking through to my Cranberry & Brie bites just before Thanksgiving.
November Happenings:
I spent a couple of days down in Devon whilst visiting Hugh Fearnley Whittingstall's River Cottage. It was a blogger event, so I got to catch up with some of my blogger buddies and meet a few new ones, whilst enjoying some amazing food. I'd love to take Chris down there in the future.
My kitchen appliances arrived yay!! I won them in the Neff cookaholic competition, and Chris has been spending his evenings building the kitchen and installing the appliances – can't wait to use them!!
Chris and I celebrated our ninth anniversary. We thought it was our tenth, and had booked something extra special, then we realised it was our ninth (we're both rubbish with dates!), but we went anyway. A lovely night away in Marlow, eating at Tom Kerridge's restaurant – The Hand and Flowers – and staying in the lovely suite there too.
December Plans:
Blogger Christmas do! I've missed the old office Christmas parties, so I was chuffed when Lucy from Super Golden Bakes organised a Christmas get-together in London for some of us foodie bloggers. We actually got together last night, and it was great to enjoy a few cocktails whilst nattering about anything and everything (but mostly blogging! We can't help it, we're all obsessed!)
Pinterest workshop – I'm part of the Pinterest UK community, which is a group of pin creators and curators that have been pulled together to connect with each other, share tips & tricks, and help each other to figure out how to get great content out there. The workshop was organised to look at how we can build and best utilise the community. I love that Pinterest are giving back as a company, and really working with bloggers to get the best out of Pinterest for everybody.
Get my kitchen appliances working! The sink probably won't go in until after Christmas, but the ovens and hob should be connected the week before Christmas.
Christmas!! I'm hoping to get my blog posts and freelance work completed by Thursday so I can enjoy a few days off over Christmas. I know I won't be able to stay away completely, but I'm looking forward to putting my feet up, playing with the kids and eating my own body weight in Ferrero Rochers and sprouts.
That's all for the November report. I hope you've found this info helpful. Please let me know if there's anything you want me to talk about in a future report. Just drop me a note in the comments 🙂