Interested in knowing some of the behind the scenes stuff for Kitchen Sanctuary? Here's the latest in my blog income and traffic report October 2016. Check out my previous reports here.
I'm sorry I'm a little late with the October report. It's been a bit of a manic couple of months (which feels like it's becoming the norm at the moment!).
I've just looked back and realised it's been a year since I've been doing these reports – in fact 13 months!
My first income report for October 2015 is here – where I earned £1009.74. I was so happy getting to the £1k mark, that I couldn't wait to tell all of you guys how I was attempting to turn my hobby into an actual career. Jump forward to October 2016 and my earnings report is quadruple that of last year.
I can't quite believe it! And I'm so grateful to you guys for reading my blog and helping me to grow.
Kitchen Situation
This month I thought I'd give you a quick peak into the Kitchen Situation.
We started preparing for our new extension and kitchen renovation in August, and I think it's safe to say we're coming close to getting over the most disruptive part.
Currently (and for the last month) we've got no kitchen. Yep, sink, cooker, hob, work surfaces – all gone.
All of the kitchen cupboard contents are in boxes, or stacked haphazardly in the living room and I spend my life tripping over things or trying to find things.
My mother-in-law is kindly lending me her kitchen for recipe creation and photography, which is an absolute godsend. The only down side is that it takes about 2 hours to find and pack up all the ingredients, props and equipment I need each time I do a shoot.
I spent 45 minutes looking for a white plate, bowl and a glass jug yesterday. I didn't swear (much).
So I thought I might share a couple of pics. Here's my kitchen just as all of the work was starting in August. At this point we'd just chucked out the dining table from the conservatory, and were filling the conservatory with all the bits from the shed (that we were getting rid of to make room for the new garage):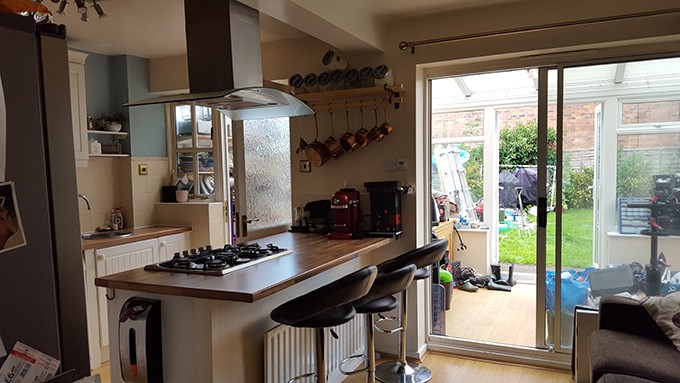 Here's where we are right now:
And here's me, eating my cereal from a jug, using a serving spoon, because I couldn't find anything else. It's also getting cold, so naturally I'm eating my breakfast in a coat with my bobble hat on.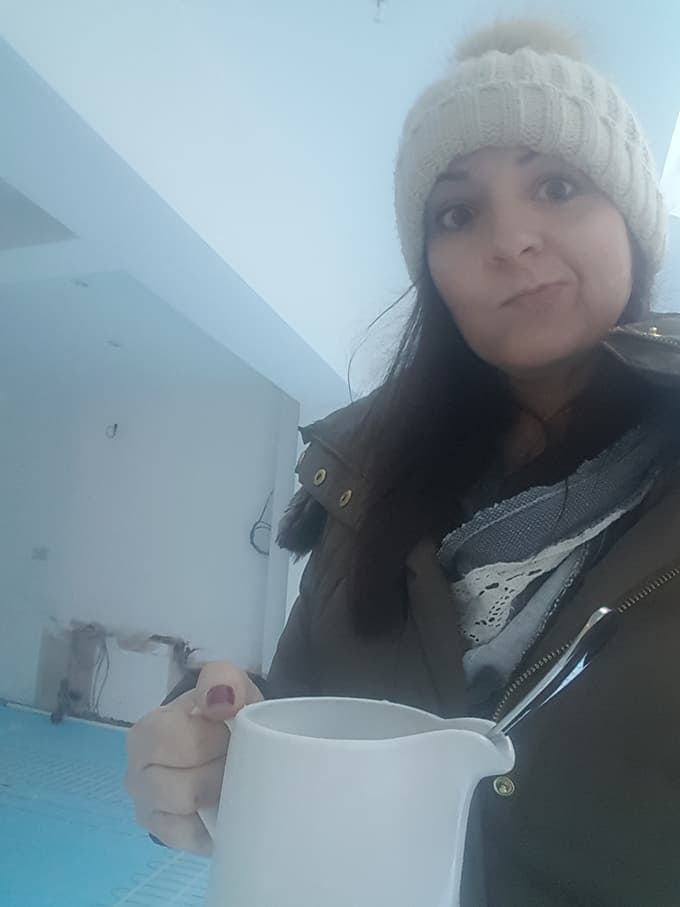 The flooring is going down over the next week, and then we'll be starting to put the units in.
Right now, all the kids care about is when we can get the Xmas tree up.
I've told them it'll be at least a week before Christmas, but we'll see….
We were hoping to invite all of the family round for Christmas dinner, but it's not going to be ready. So I guess we'll just have to make up for it in January!!
Ok, let's get down to the numbers for October. I really hope the info in this post gives you some insight and ideas if you're new to blogging and monetization. Also check out my How to Start a Food Blog post if you are thinking about giving this blogging thing a go too!
Income Breakdown
Note – there are some links in this post that are affiliate links – which means that if you click on them and then sign up to the service/product I'll get a small commission (at no extra cost to you of course). If you do click through then thanks!
Income (fyi – this info is based on earning reports and invoices for work done in the month of October, it's not based on money that has actually come in yet, so there may be some variations based on things like paypal fees or exchange rate fluctuations):
Freelance writing: £2676.04 ($3389.29)
MediaVine: £1512.90 ($1909.27)
Sponsored Work £250 ($315.67)
Amazon Affiliate sales £25.31 ($32.02)
FoodBloggerPro affiliate sales £4.59 ($5.80)
Tailwind Affiliate £0 ($0)
StudioPress Genesis Theme affiliate sales £0 ($0)
How I earned $40k in my first year of blogging affiliate sales £0 ($0)
Tasty Food Photography £0 ($0)
The Food Photography book affiliate sales £0 ($0)
Total = £4468.84 ($5652.05)
Expenses (currently this includes regular payments for tools, membership fees and advertising but not inconsistent things like courses, trips and props):
FoodBloggerPro: £16.37 ($20.83)
Hosting and backups: £64.08 ($81.56)
Tailwind: £6.29 ($8.00)
MailChimp £39.29 ($50)
Adobe creative cloud £47.76 ($60.79)
Facebook Ads £0 ($0)
OptinMonster£12.00 ($15.27)
Total = £185.79 ($235.45)
Net Profit = £4283.05 ($5416.60)
Made it above £4k for the first time yay! That was down to quite a lot of freelance work for October, and also a jump in ad revenue from Mediavine.
I'm still loving Mediavine by the way. My first full month with them in May saw earnings of £503 ($725) for pageviews of around 127k.
For October, my Mediavine revenue is triple that, even though the number of pageviews is less than double – which shows that ad revenue isn't directly proportionate to pageviews.
As my traffic has increased, my RPM (which is revenue per mille (latin for thousand) views) – has increased.
My mediavine RPM for May was $5.71 , whereas for October it was $8.15.
Traffic
A nice jump in traffic with around 50k more pageviews than the previous month. I was hoping for a rise in traffic with people preparing for Thanksgiving and Christmas, but I didn't expect for it to go up this much. The rise in traffic also resulted in a good increase in ad revenue (almost £400 more than in September). Here's a screenshot from Google Analytics for October:
Here's a breakdown of my traffic sources based on the number of sessions (rather than pageviews). As with the previous month, Pinterest is my highest traffic source (Google/Organic is usually my highest).
Here's the info on the location of my readers:



October Happenings:
Two months into my new hosting plan on Siteground and things have been stable, despite the large jump in traffic.
We managed to get a few days away in Poole during half term. Fish and chips by the sea, a great big family dinner at Chris's auntie's house, and a cocktail or two once the kids were in bed. Absolute bliss!
I took a trip down to London for a Pinterest event and got the chance to meet up with my some of my lovely blogger friends – where we had a cocktail or two (uh oh, bit of a theme going here!). On the way back, I stopped off in Nottingham to film a recipe vid with the lovely Emily Leary from A Mummy Too. I loved every minute of it, and Emily was amazing! Sending big hugs to her as she's poorly at the moment.
I spent a brilliant day down at Neff HQ in Milton Keynes, where I got to meet the team, play with the appliances, and even do a bit of cooking with Neff's home economist Lynn Williams. We talked recipes and kitchen design, and I chose all of my new appliances (my prize from winning the Neff Cookaholics comp). Can't wait to get them in my new kitchen!!
Enough rambling from me. That's all for the October report. I'll try not to be so late with the November one!
I hope you've found this info helpful. Please let me know if there's anything you want me to talk about in a future report. Just drop me a note in the comments 🙂